By the end of this section, you will be able to:
Discuss the relationships between matter, mass, elements, compounds, atoms, and subatomic particles
Distinguish between atomic number and mass number
Identify the key distinction between isotopes of the same element
Explain how electrons occupy electron shells and their contribution to an atom's relative stability
The substance of the universe—from a grain of sand to a star—is called matter . Scientists define matter as anything that occupies space and has mass. An object's mass and its weight are related concepts, but not quite the same. An object's mass is the amount of matter contained in the object, and the object's mass is the same whether that object is on Earth or in the zero-gravity environment of outer space. An object's weight, on the other hand, is its mass as affected by the pull of gravity. Where gravity strongly pulls on an object's mass its weight is greater than it is where gravity is less strong. An object of a certain mass weighs less on the moon, for example, than it does on Earth because the gravity of the moon is less than that of Earth. In other words, weight is variable, and is influenced by gravity. A piece of cheese that weighs a pound on Earth weighs only a few ounces on the moon.
Elements and compounds
All matter in the natural world is composed of one or more of the 92 fundamental substances called elements. An element is a pure substance that is distinguished from all other matter by the fact that it cannot be created or broken down by ordinary chemical means. While your body can assemble many of the chemical compounds needed for life from their constituent elements, it cannot make elements. They must come from the environment. A familiar example of an element that you must take in is calcium (Ca ++ ). Calcium is essential to the human body; it is absorbed and used for a number of processes, including strengthening bones. When you consume dairy products your digestive system breaks down the food into components small enough to cross into the bloodstream. Among these is calcium, which, because it is an element, cannot be broken down further. The elemental calcium in cheese, therefore, is the same as the calcium that forms your bones. Some other elements you might be familiar with are oxygen, sodium, and iron. The elements in the human body are shown in [link] , beginning with the most abundant: oxygen (O), carbon (C), hydrogen (H), and nitrogen (N). Each element's name can be replaced by a one- or two-letter symbol; you will become familiar with some of these during this course. All the elements in your body are derived from the foods you eat and the air you breathe.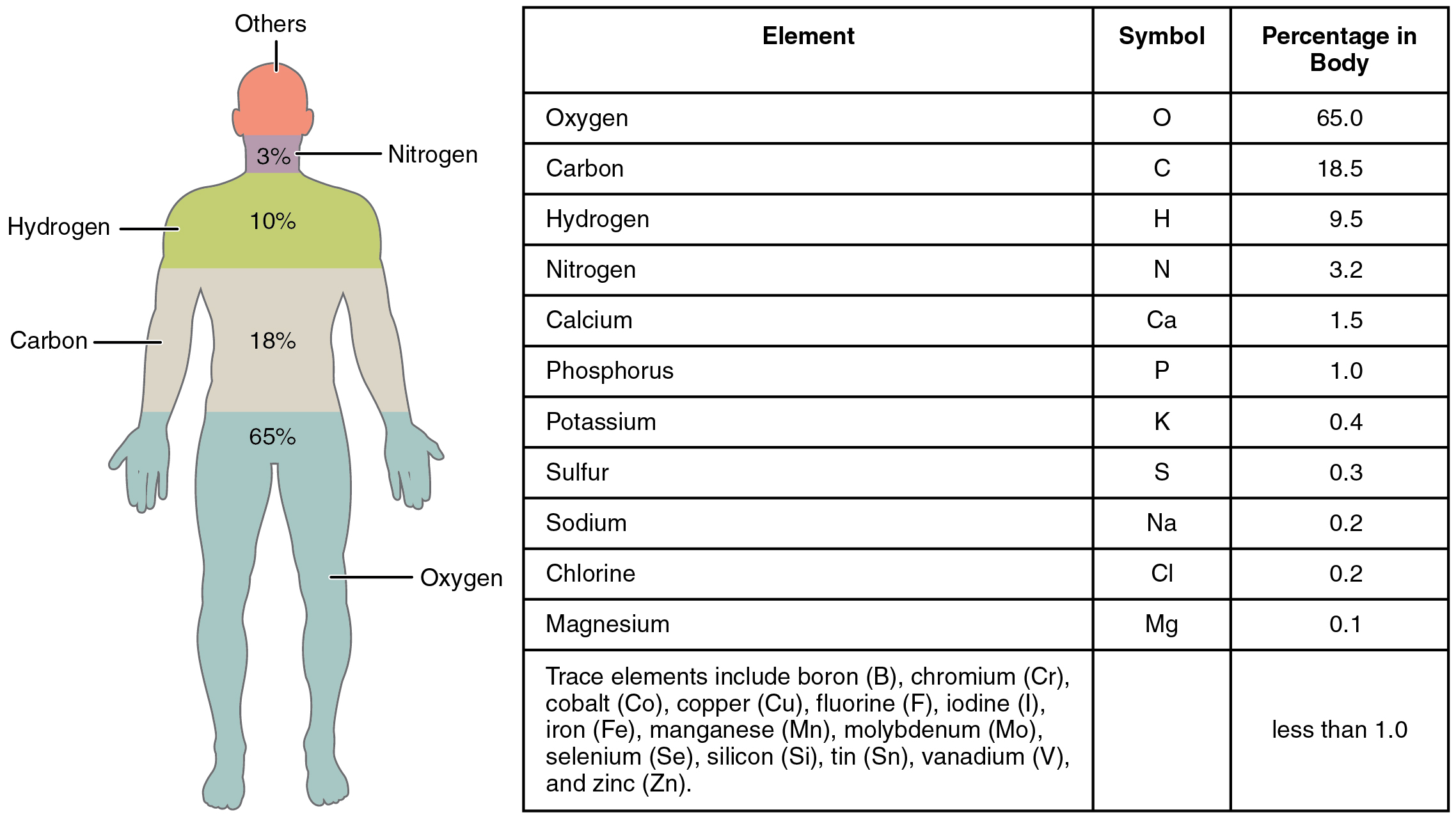 In nature, elements rarely occur alone. Instead, they combine to form compounds. A compound is a substance composed of two or more elements joined by chemical bonds. For example, the compound glucose is an important body fuel. It is always composed of the same three elements: carbon, hydrogen, and oxygen. Moreover, the elements that make up any given compound always occur in the same relative amounts. In glucose, there are always six carbon and six oxygen units for every twelve hydrogen units. But what, exactly, are these "units" of elements?