By the end of this section, you will be able to:
Distinguish the major functions of the nervous system: sensation, integration, and response
List the sequence of events in a simple sensory receptor–motor response pathway
Having looked at the components of nervous tissue, and the basic anatomy of the nervous system, next comes an understanding of how nervous tissue is capable of communicating within the nervous system. Before getting to the nuts and bolts of how this works, an illustration of how the components come together will be helpful. An example is summarized in [link] .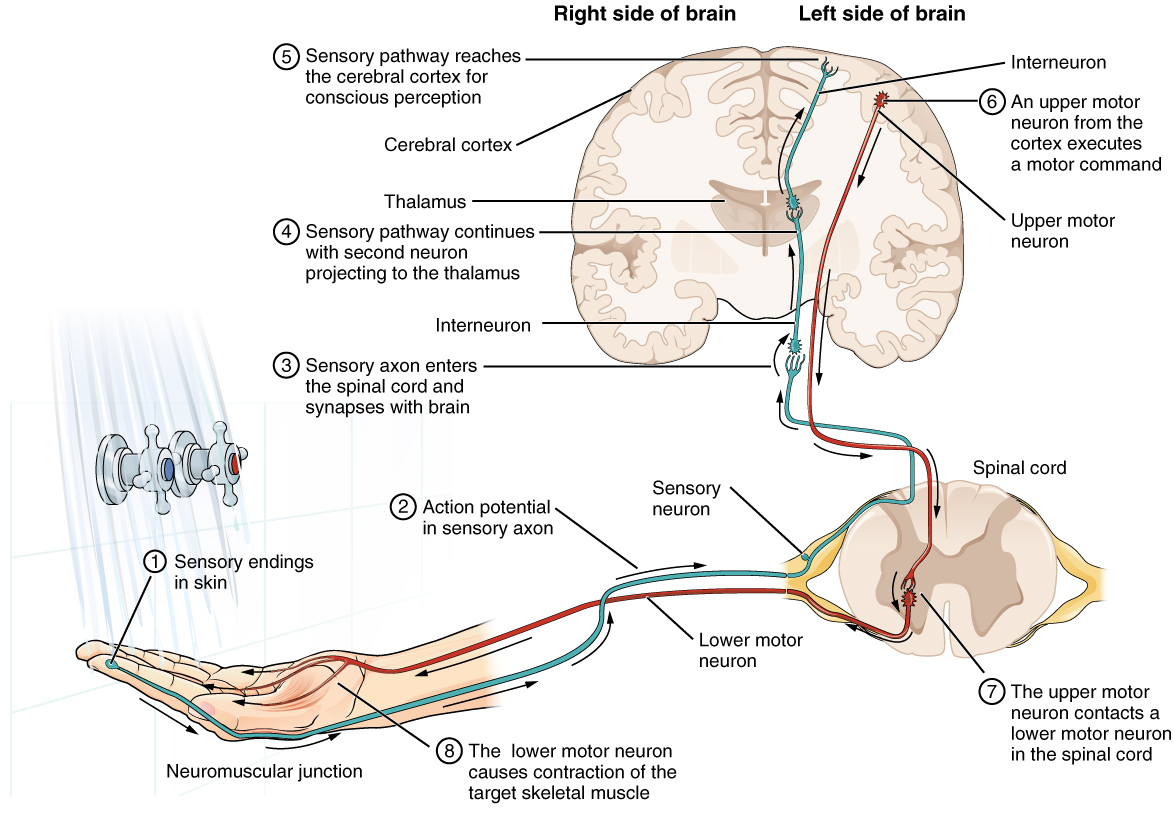 Imagine you are about to take a shower in the morning before going to school. You have turned on the faucet to start the water as you prepare to get in the shower. After a few minutes, you expect the water to be a temperature that will be comfortable to enter. So you put your hand out into the spray of water. What happens next depends on how your nervous system interacts with the stimulus of the water temperature and what you do in response to that stimulus.
Found in the skin of your fingers or toes is a type of sensory receptor that is sensitive to temperature, called a thermoreceptor . When you place your hand under the shower ( [link] ), the cell membrane of the thermoreceptors changes its electrical state (voltage). The amount of change is dependent on the strength of the stimulus (how hot the water is). This is called a graded potential . If the stimulus is strong, the voltage of the cell membrane will change enough to generate an electrical signal that will travel down the axon. You have learned about this type of signaling before, with respect to the interaction of nerves and muscles at the neuromuscular junction. The voltage at which such a signal is generated is called the threshold , and the resulting electrical signal is called an action potential . In this example, the action potential travels—a process known as propagation —along the axon from the axon hillock to the axon terminals and into the synaptic end bulbs. When this signal reaches the end bulbs, it causes the release of a signaling molecule called a neurotransmitter .