Thigh muscles that move the femur, tibia, and fibula
Deep fascia in the thigh separates it into medial, anterior, and posterior compartments (see [link] and [link] ). The muscles in the medial compartment of the thigh are responsible for adducting the femur at the hip. Along with the adductor longus, adductor brevis, adductor magnus, and pectineus, the strap-like gracilis adducts the thigh in addition to flexing the leg at the knee.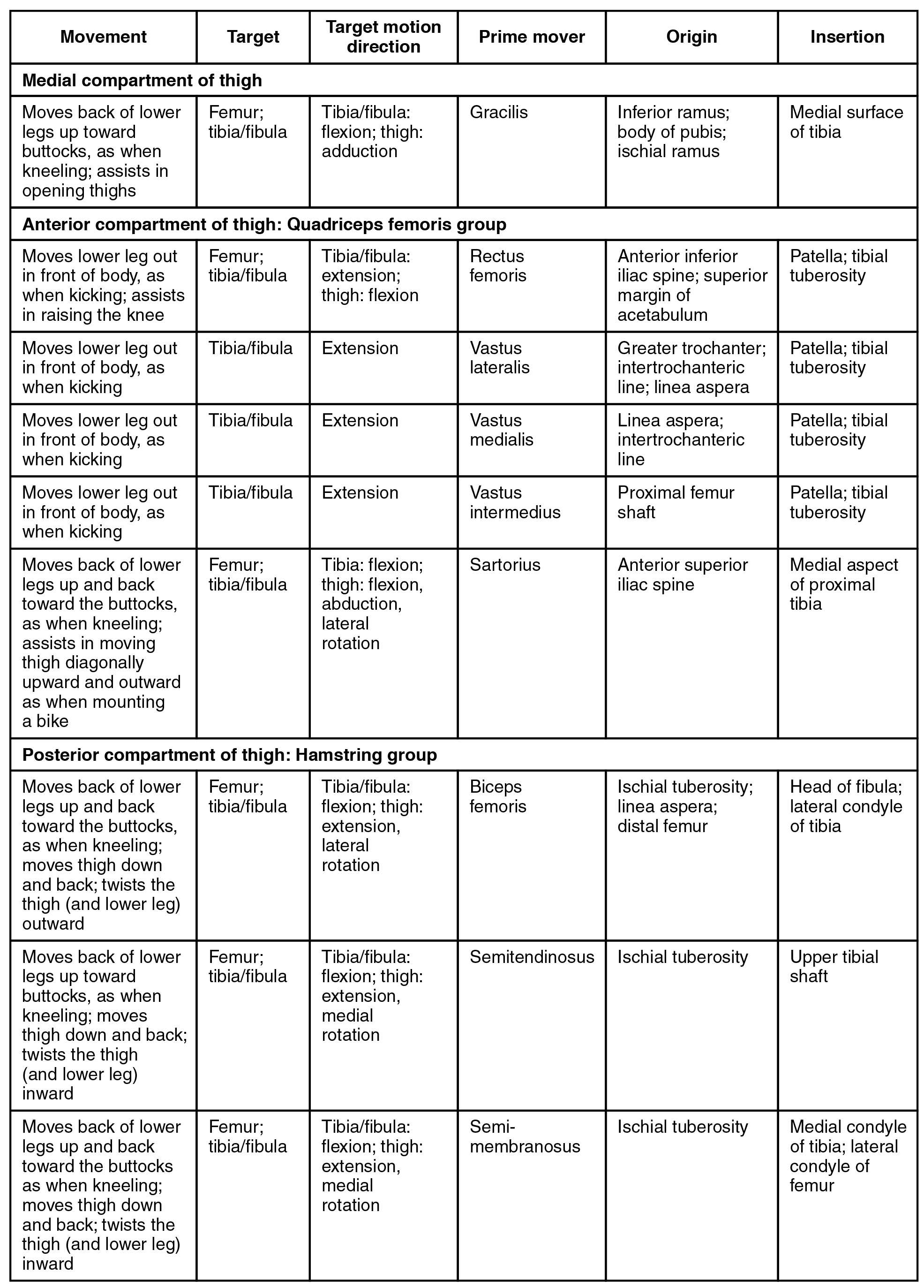 The muscles of the anterior compartment of the thigh flex the thigh and extend the leg. This compartment contains the quadriceps femoris group , which actually comprises four muscles that extend and stabilize the knee. The rectus femoris is on the anterior aspect of the thigh, the vastus lateralis is on the lateral aspect of the thigh, the vastus medialis is on the medial aspect of the thigh, and the vastus intermedius is between the vastus lateralis and vastus medialis and deep to the rectus femoris. The tendon common to all four is the quadriceps tendon (patellar tendon), which inserts into the patella and continues below it as the patellar ligament . The patellar ligament attaches to the tibial tuberosity. In addition to the quadriceps femoris, the sartorius is a band-like muscle that extends from the anterior superior iliac spine to the medial side of the proximal tibia. This versatile muscle flexes the leg at the knee and flexes, abducts, and laterally rotates the leg at the hip. This muscle allows us to sit cross-legged.
The posterior compartment of the thigh includes muscles that flex the leg and extend the thigh. The three long muscles on the back of the knee are the hamstring group , which flexes the knee. These are the biceps femoris , semitendinosus , and semimembranosus . The tendons of these muscles form the popliteal fossa , the diamond-shaped space at the back of the knee.
Muscles that move the feet and toes
Similar to the thigh muscles, the muscles of the leg are divided by deep fascia into compartments, although the leg has three: anterior, lateral, and posterior ( [link] and [link] ).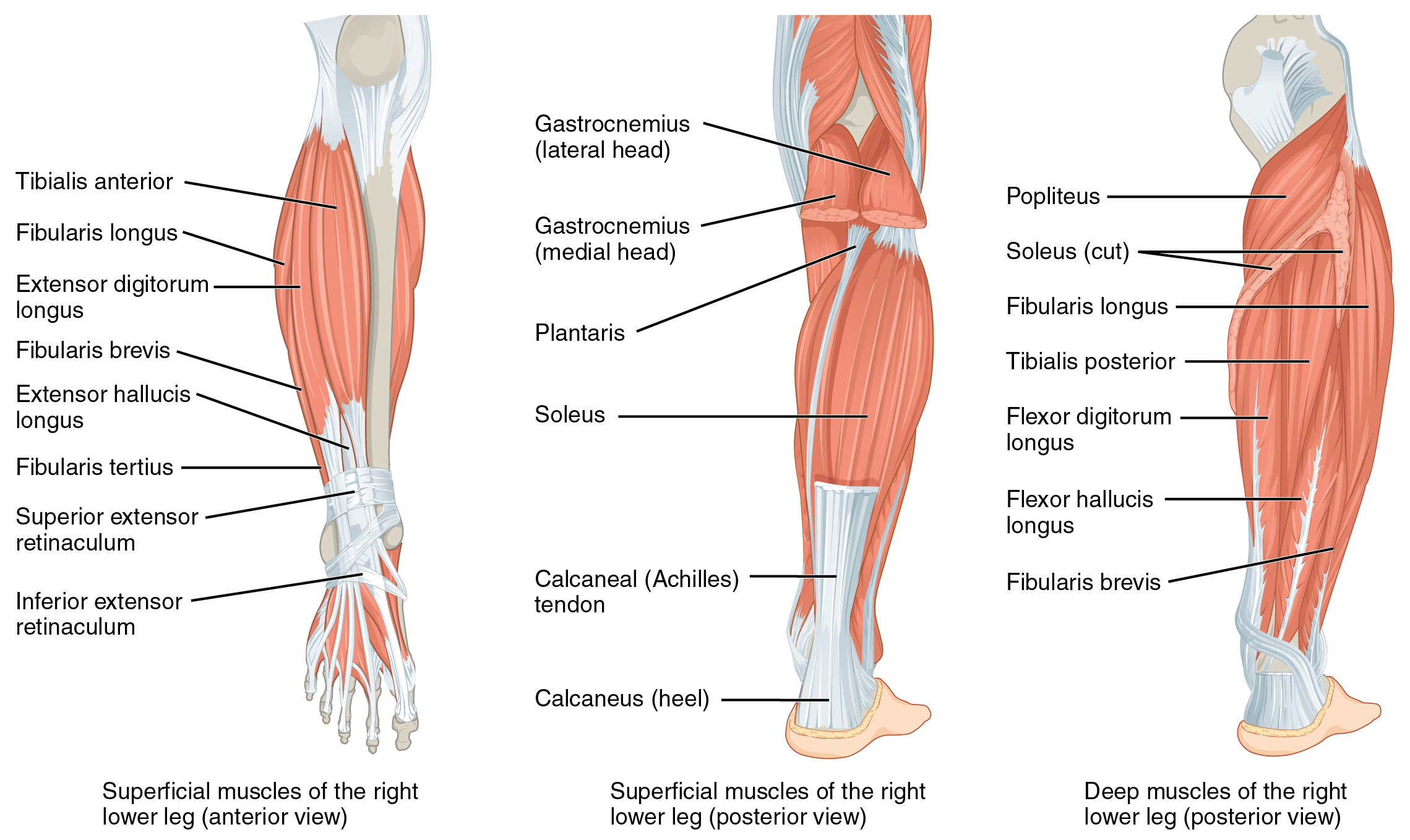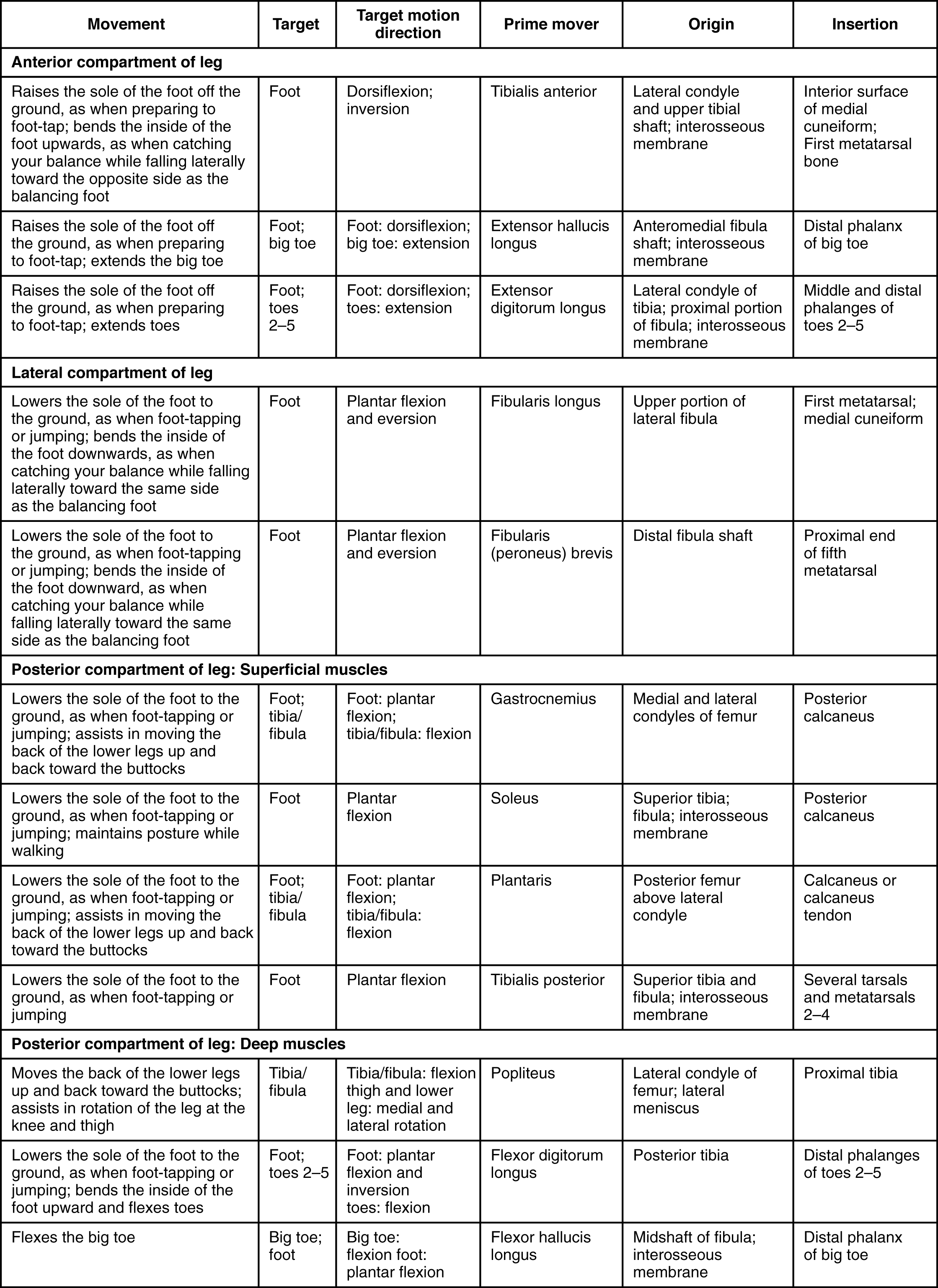 The muscles in the anterior compartment of the leg : the tibialis anterior , a long and thick muscle on the lateral surface of the tibia, the extensor hallucis longus , deep under it, and the extensor digitorum longus , lateral to it, all contribute to raising the front of the foot when they contract. The fibularis tertius , a small muscle that originates on the anterior surface of the fibula, is associated with the extensor digitorum longus and sometimes fused to it, but is not present in all people. Thick bands of connective tissue called the superior extensor retinaculum (transverse ligament of the ankle) and the inferior extensor retinaculum , hold the tendons of these muscles in place during dorsiflexion.