Reproduction can be very rapid: a few minutes for some species. This short generation time coupled with mechanisms of genetic recombination and high rates of mutation result in the rapid evolution of prokaryotes, allowing them to respond to environmental changes (such as the introduction of an antibiotic) very quickly.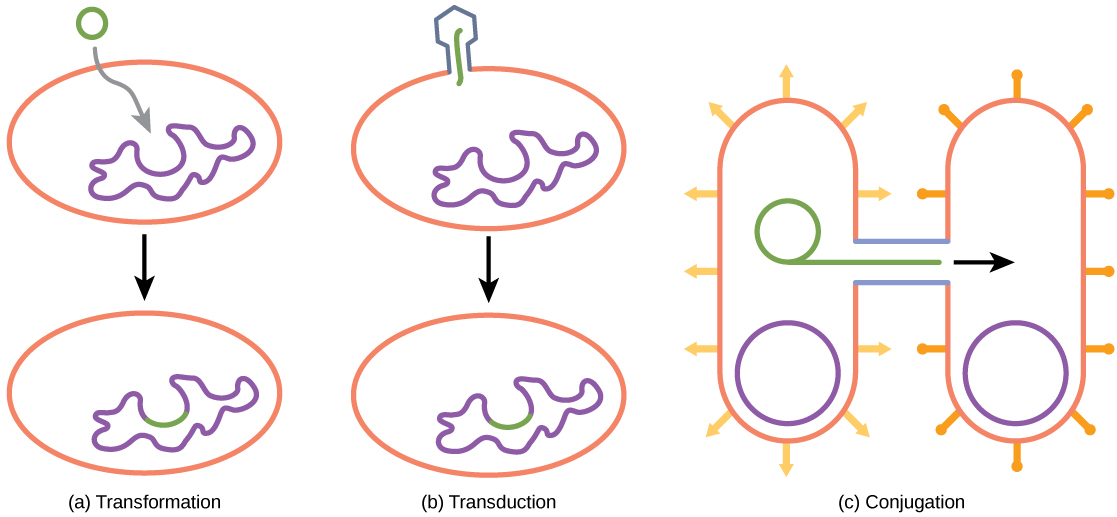 Evolution connection
The evolution of prokaryotes
How do scientists answer questions about the evolution of prokaryotes? Unlike with animals, artifacts in the fossil record of prokaryotes offer very little information. Fossils of ancient prokaryotes look like tiny bubbles in rock. Some scientists turn to genetics and to the principle of the molecular clock, which holds that the more recently two species have diverged, the more similar their genes (and thus proteins) will be. Conversely, species that diverged long ago will have more genes that are dissimilar.
Scientists at the NASA Astrobiology Institute and at the European Molecular Biology Laboratory collaborated to analyze the molecular evolution of 32 specific proteins common to 72 species of prokaryotes. The model they derived from their data indicates that three important groups of bacteria—Actinobacteria, Deinococcus , and Cyanobacteria (which the authors call Terrabacteria )—were the first to colonize land. (Recall that Deinococcus is a genus of prokaryote—a bacterium—that is highly resistant to ionizing radiation.) Cyanobacteria are photosynthesizers, while Actinobacteria are a group of very common bacteria that include species important in decomposition of organic wastes.
The timelines of divergence suggest that bacteria (members of the domain Bacteria) diverged from common ancestral species between 2.5 and 3.2 billion years ago, whereas archaea diverged earlier: between 3.1 and 4.1 billion years ago. Eukarya later diverged off the Archaean line. The work further suggests that stromatolites that formed prior to the advent of cyanobacteria (about 2.6 billion years ago) photosynthesized in an anoxic environment and that because of the modifications of the Terrabacteria for land (resistance to drying and the possession of compounds that protect the organism from excess light), photosynthesis using oxygen may be closely linked to adaptations to survive on land.
Section summary
Prokaryotes (domains Archaea and Bacteria) are single-celled organisms lacking a nucleus. They have a single piece of circular DNA in the nucleoid area of the cell. Most prokaryotes have a cell wall that lies outside the boundary of the plasma membrane. Some prokaryotes may have additional structures such as a capsule, flagella, and pili. Bacteria and Archaea differ in the lipid composition of their cell membranes and the characteristics of the cell wall. In archaeal membranes, phytanyl units, rather than fatty acids, are linked to glycerol. Some archaeal membranes are lipid monolayers instead of bilayers.
The cell wall is located outside the cell membrane and prevents osmotic lysis. The chemical composition of cell walls varies between species. Bacterial cell walls contain peptidoglycan. Archaean cell walls do not have peptidoglycan, but they may have pseudopeptidoglycan, polysaccharides, glycoproteins, or protein-based cell walls. Bacteria can be divided into two major groups: Gram positive and Gram negative, based on the Gram stain reaction. Gram-positive organisms have a thick cell wall, together with teichoic acids. Gram-negative organisms have a thin cell wall and an outer envelope containing lipopolysaccharides and lipoproteins.
Art connections
[link] Which of the following statements is true?
Gram-positive bacteria have a single cell wall anchored to the cell membrane by lipoteichoic acid.
Porins allow entry of substances into both Gram-positive and Gram-negative bacteria.
The cell wall of Gram-negative bacteria is thick, and the cell wall of Gram-positive bacteria is thin.
Gram-negative bacteria have a cell wall made of peptidoglycan, whereas Gram-positive bacteria have a cell wall made of lipoteichoic acid.