Tropical rainforests have high net primary productivity because the annual temperatures and precipitation values support rapid plant growth ( [link] ). However, the high rainfall quickly leaches nutrients from the soils of these forests, which are typically low in nutrients. Tropical rainforests are characterized by vertical layering of vegetation and the formation of distinct habitats for animals within each layer. On the forest floor is a sparse layer of plants and decaying plant matter. Above that is an understory of short, shrubby foliage. A layer of trees rises above this understory and is topped by a closed upper canopy —the uppermost overhead layer of branches and leaves. Some additional trees emerge through this closed upper canopy. These layers provide diverse and complex habitats for the variety of plants, animals, and other organisms within the tropical wet forests. Many species of animals use the variety of plants and the complex structure of the tropical wet forests for food and shelter. Some organisms live several meters above ground rarely ever descending to the forest floor.
Rainforests are not the only forest biome in the tropics; there are also tropical dry forests, which are characterized by a dry season of varying lengths. These forests commonly experience leaf loss during the dry season to one degree or another. The loss of leaves from taller trees during the dry season opens up the canopy and allows sunlight to the forest floor that allows the growth of thick ground-level brush, which is absent in tropical rainforests. Extensive tropical dry forests occur in Africa (including Madagascar), India, southern Mexico, and South America.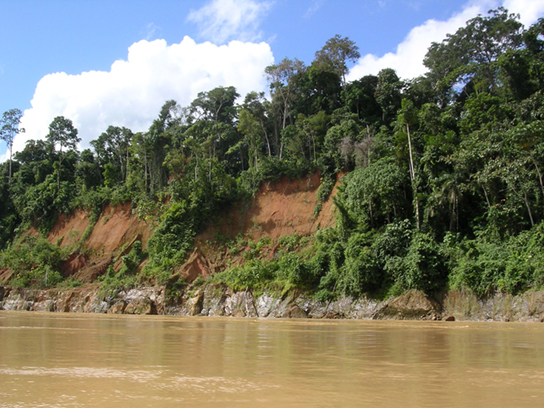 Savannas
Savannas are grasslands with scattered trees, and they are found in Africa, South America, and northern Australia ( [link] ). Savannas are hot, tropical areas with temperatures averaging from 24 o C –29 o C (75 o F –84 o F) and an annual rainfall of 51–127 cm (20–50 in). Savannas have an extensive dry season and consequent fires. As a result, scattered in the grasses and forbs (herbaceous flowering plants) that dominate the savanna, there are relatively few trees ( [link] ). Since fire is an important source of disturbance in this biome, plants have evolved well-developed root systems that allow them to quickly re-sprout after a fire.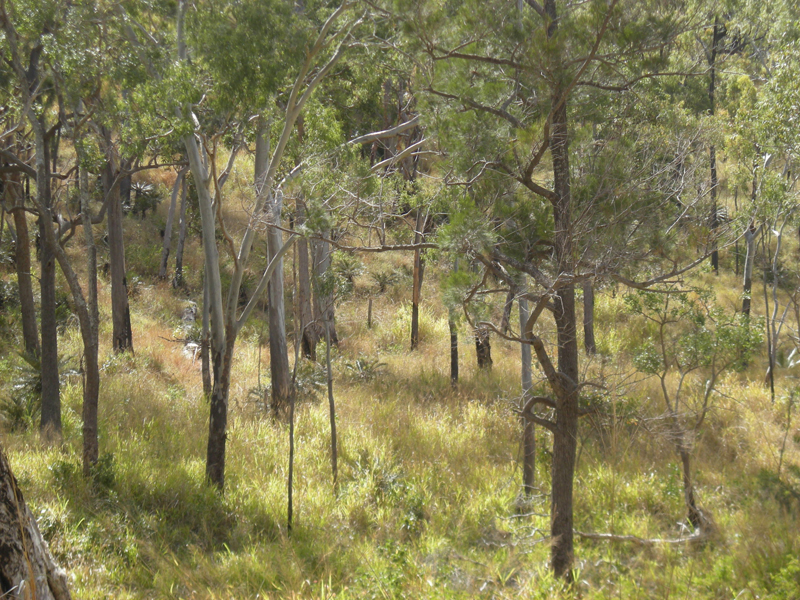 Deserts
Subtropical deserts exist between 15 o and 30 o north and south latitude and are centered on the Tropic of Cancer and the Tropic of Capricorn ( [link] ). Deserts are frequently located on the downwind or lee side of mountain ranges, which create a rain shadow after prevailing winds drop their water content on the mountains. This is typical of the North American deserts, such as the Mohave and Sonoran deserts. Deserts in other regions, such as the Sahara Desert in northern Africa or the Namib Desert in southwestern Africa are dry because of the high-pressure, dry air descending at those latitudes. Subtropical deserts are very dry; evaporation typically exceeds precipitation. Subtropical hot deserts can have daytime soil surface temperatures above 60 o C (140 o F) and nighttime temperatures approaching 0 o C (32 o F). The temperature drops so far because there is little water vapor in the air to prevent radiative cooling of the land surface. Subtropical deserts are characterized by low annual precipitation of fewer than 30 cm (12 in) with little monthly variation and lack of predictability in rainfall. Some years may receive tiny amounts of rainfall, while others receive more. In some cases, the annual rainfall can be as low as 2 cm (0.8 in) in subtropical deserts located in central Australia ("the Outback") and northern Africa.