This module considers the role of missionaries and their relationship with Native Americans in Spanish America.
The Spanish colonization and conversion of the Americas was administered through a series of relations between the Spanish government, soldiers, settlers, Catholic missionaries, and Native Americans. Catholic missionaries became key figures that worked between the natives, Spanish colonials, and Catholic Church. As historian Herbert Bolton says, "missionaries became a veritable corps of Indian agents, serving both Church and State. The double capacity in which they served was made easier and more natural by the close union between Church and State in Spanish America" (45). Although the role of missionaries was facilitated by the intimacy between the Catholic Church and Spain's government, Spanish Catholic missionaries also held a tenuous position because they worked as both agents of colonization and as defenders of native peoples. This module explores how Spanish missionaries interacted with and represented native peoples by using an eighteenth-century 'Our Americas' Archive Partnership document "Guevara's Report to His Excellency, the Viceroy, regarding the Seno Mexicano missions made in the year 1756." For AP history classes, it would be helpful for teaching lessons on religion, diversity, colonialism, and Native American history.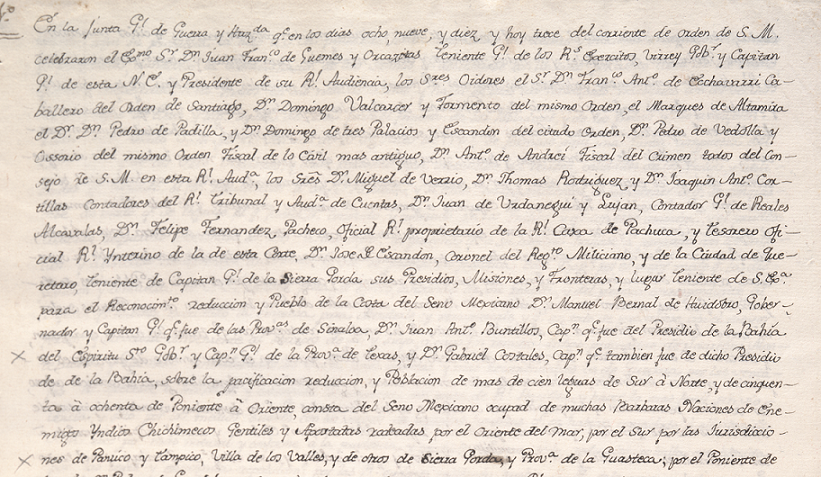 Teachers can begin by highlighting the geographic location that this report specifies, calling students to understand this discussion as part of a Mexican-American borderlands culture and, on a broader scale, the history of both the U.S. and the Americas at large. In fact, from the beginning this region was part of a border history; it was formulated around the politics of Spanish, French, and English colonization. From the beginning of colonial settlement, borders were important markers of territorial difference. As Gorraez noted, "The distance between Orcasitas and Llera is fourteen leagues; that is sufficient for the community to defend said borders and cultivate their land" (15-16). Seno Mexicano comprises the Gulf coast of Mexico north of Tampico and today includes the Mexican state of Tamaulipas and the southern coast of Texas. Describing the development of the area, Mexican official José de Escandón and Gorraez comment upon the ample resources of the Seno Mexicano, specifically describing the region's prime location on the Gulf of Mexico (4). Antonio Ladrón de Guevara was the first to petition for the settlement of the area; however, after seven years of debate between Spanish and Mexican official Escandón was chosen as the governor and colonizer of the new province, Nuevo Santander of the Costa del Seno Mexicano. The main subject of the Seno Mexicano report concerns the "pacification, religious conversion, and settlement" of this territory and the natives that occupy it (3).