Changes in Expectations about Future Prices or Other Factors that Affect Demand
While it is clear that the price of a good affects the quantity demanded, it is also true that expectations about the future price (or expectations about tastes and preferences, income, and so on) can affect demand. For example, if people hear that a hurricane is coming, they may rush to the store to buy flashlight batteries and bottled water. If people learn that the price of a good like coffee is likely to rise in the future, they may head for the store to stock up on coffee now. These changes in demand are shown as shifts in the curve. Therefore, a shift in demand happens when a change in some economic factor (other than price) causes a different quantity to be demanded at every price. The following Work It Out feature shows how this happens.
Shift in demand
A shift in demand means that at any price (and at every price), the quantity demanded will be different than it was before. Following is an example of a shift in demand due to an income increase.
Step 1. Draw the graph of a demand curve for a normal good like pizza. Pick a price (like P 0 ). Identify the corresponding Q 0 . An example is shown in [link] .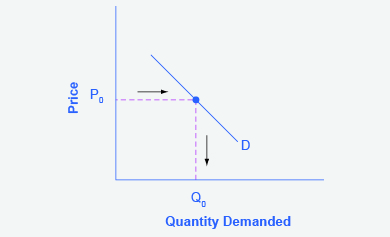 Step 2. Suppose income increases. As a result of the change, are consumers going to buy more or less pizza? The answer is more. Draw a dotted horizontal line from the chosen price, through the original quantity demanded, to the new point with the new Q 1 . Draw a dotted vertical line down to the horizontal axis and label the new Q 1 . An example is provided in [link] .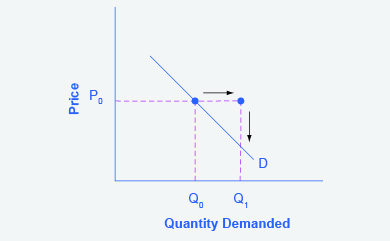 Step 3. Now, shift the curve through the new point. You will see that an increase in income causes an upward (or rightward) shift in the demand curve, so that at any price the quantities demanded will be higher, as shown in [link] .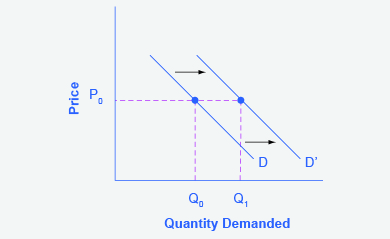 Summing up factors that change demand
Six factors that can shift demand curves are summarized in [link] . The direction of the arrows indicates whether the demand curve shifts represent an increase in demand or a decrease in demand. Notice that a change in the price of the good or service itself is not listed among the factors that can shift a demand curve. A change in the price of a good or service causes a movement along a specific demand curve, and it typically leads to some change in the quantity demanded, but it does not shift the demand curve.

When a demand curve shifts, it will then intersect with a given supply curve at a different equilibrium price and quantity. We are, however, getting ahead of our story. Before discussing how changes in demand can affect equilibrium price and quantity, we first need to discuss shifts in supply curves.