After spending the winter of 1803–1804 encamped at the mouth of the Missouri River while the men prepared for their expedition, the corps set off in May 1804. Although the thirty-three frontiersmen, boatmen, and hunters took with them Alexander Mackenzie's account of his explorations and the best maps they could find, they did not have any real understanding of the difficulties they would face. Fierce storms left them drenched and freezing. Enormous clouds of gnats and mosquitos swarmed about their heads as they made their way up the Missouri River. Along the way they encountered (and killed) a variety of animals including elk, buffalo, and grizzly bears. One member of the expedition survived a rattlesnake bite. As the men collected minerals and specimens of plants and animals, the overly curious Lewis sampled minerals by tasting them and became seriously ill at one point. What they did not collect, they sketched and documented in the journals they kept. They also noted the customs of the Indian tribes who controlled the land and attempted to establish peaceful relationships with them in order to ensure that future white settlement would not be impeded.
Read the journals of Lewis and Clark on the University of Virginia website or on the University of Nebraska–Lincoln website, which also has footnotes, maps, and commentary. According to their writings, what challenges did the explorers confront?
The corps spent their first winter in the wilderness, 1804–1805, in a Mandan village in what is now North Dakota. There they encountered a reminder of France's former vast North American empire when they met a French fur trapper named Toussaint Charbonneau. When the corps left in the spring of 1805, Charbonneau accompanied them as a guide and interpreter, bringing his teenage Shoshone wife Sacagawea and their newborn son. Charbonneau knew the land better than the Americans, and Sacagawea proved invaluable in many ways, not least of which was that the presence of a young woman and her infant convinced many groups that the men were not a war party and meant no harm ( [link] ).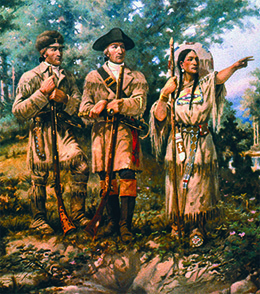 The corps set about making friends with native tribes while simultaneously attempting to assert American power over the territory. Hoping to overawe the people of the land, Lewis would let out a blast of his air rifle, a relatively new piece of technology the Indians had never seen. The corps also followed native custom by distributing gifts, including shirts, ribbons, and kettles, as a sign of goodwill. The explorers presented native leaders with medallions, many of which bore Jefferson's image, and invited them to visit their new "ruler" in the East. These medallions or peace medals were meant to allow future explorers to identify friendly native groups. Not all efforts to assert U.S. control went peacefully; some Indians rejected the explorers' intrusion onto their land. An encounter with the Blackfoot turned hostile, for example, and members of the corps killed two Blackfoot men.