The pH scale is, as previously mentioned, an inverse logarithm and ranges from 0 to 14 ( [link] ). Anything below 7.0 (ranging from 0.0 to 6.9) is acidic, and anything above 7.0 (from 7.1 to 14.0) is alkaline. Extremes in pH in either direction from 7.0 are usually considered inhospitable to life. The pH inside cells (6.8) and the pH in the blood (7.4) are both very close to neutral. However, the environment in the stomach is highly acidic, with a pH of 1 to 2. So how do the cells of the stomach survive in such an acidic environment? How do they homeostatically maintain the near neutral pH inside them? The answer is that they cannot do it and are constantly dying. New stomach cells are constantly produced to replace dead ones, which are digested by the stomach acids. It is estimated that the lining of the human stomach is completely replaced every seven to ten days.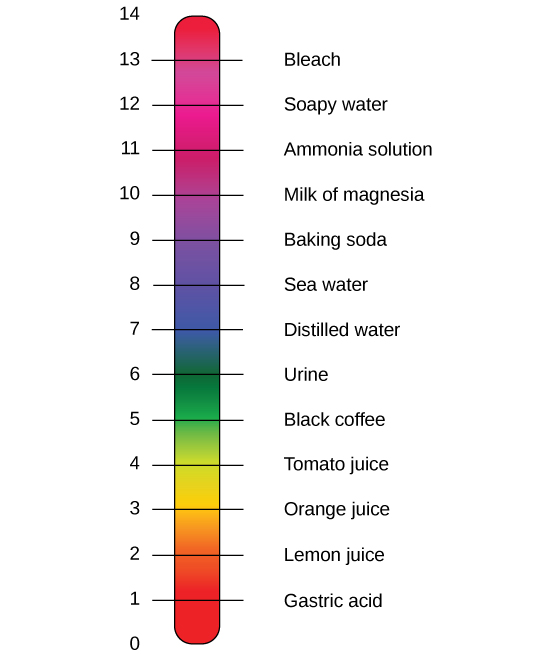 Link to learning
Watch this video for a straightforward explanation of pH and its logarithmic scale.
So how can organisms whose bodies require a near-neutral pH ingest acidic and basic substances (a human drinking orange juice, for example) and survive? Buffers are the key. Buffers readily absorb excess H + or OH – , keeping the pH of the body carefully maintained in the narrow range required for survival. Maintaining a constant blood pH is critical to a person's well-being. The buffer maintaining the pH of human blood involves carbonic acid (H 2 CO 3 ), bicarbonate ion (HCO 3 – ), and carbon dioxide (CO 2 ). When bicarbonate ions combine with free hydrogen ions and become carbonic acid, hydrogen ions are removed, moderating pH changes. Similarly, as shown in [link] , excess carbonic acid can be converted to carbon dioxide gas and exhaled through the lungs. This prevents too many free hydrogen ions from building up in the blood and dangerously reducing the blood's pH. Likewise, if too much OH – is introduced into the system, carbonic acid will combine with it to create bicarbonate, lowering the pH. Without this buffer system, the body's pH would fluctuate enough to put survival in jeopardy.

Other examples of buffers are antacids used to combat excess stomach acid. Many of these over-the-counter medications work in the same way as blood buffers, usually with at least one ion capable of absorbing hydrogen and moderating pH, bringing relief to those that suffer "heartburn" after eating. The unique properties of water that contribute to this capacity to balance pH—as well as water's other characteristics—are essential to sustaining life on Earth.
Additional links
Here are some additional links on pH and pKa to help learn the material. Note that there is an additional module devoted to pKa.
Section summary
Water has many properties that are critical to maintaining life. It is a polar molecule, allowing for the formation of hydrogen bonds. Hydrogen bonds allow ions and other polar molecules to dissolve in water. Therefore, water is an excellent solvent. The hydrogen bonds between water molecules cause the water to have a high heat capacity, meaning it takes a lot of added heat to raise its temperature. As the temperature rises, the hydrogen bonds between water continually break and form anew. This allows for the overall temperature to remain stable, although energy is added to the system. Water also exhibits a high heat of vaporization, which is key to how organisms cool themselves by the evaporation of sweat. Water's cohesive forces allow for the property of surface tension, whereas its adhesive properties are seen as water rises inside capillary tubes. The pH value is a measure of hydrogen ion concentration in a solution and is one of many chemical characteristics that is highly regulated in living organisms through homeostasis. Acids and bases can change pH values, but buffers tend to moderate the changes they cause. These properties of water are intimately connected to the biochemical and physical processes performed by living organisms, and life would be very different if these properties were altered, if it could exist at all.