Liquid biofuels: ethanol and biodiesel
Biofuels may be considered to be carbon-neutral because the plants that are used to make them (such as corn and sugarcane for ethanol, and soy beans and palm oil trees for biodiesel) absorb CO 2 as they grow and may offset the CO 2 produced when biofuels are made and burned. Calculating the net energy or CO 2 generated or reduced in the process of producing the biofuel is crucial to determining its environmental impact.
Even if the environmental impact is net positive, the economic and social effects of growing plants for fuels need to be considered, since the land, fertilizers, and energy used to grow biofuel crops could be used to grow food crops instead. The competition of land for fuel vs. food can increase the price of food, which has a negative effect on society. It could also decrease the food supply increasing malnutrition and starvation globally. Biofuels may be derived from parts of plants not used for food (cellulosic biomass) thus reducing that impact. Cellulosic ethanol feedstock includes native prairie grasses, fast growing trees, sawdust, and even waste paper. Also, in some parts of the world, large areas of natural vegetation and forests have been cut down to grow sugar cane for ethanol and soybeans and palm-oil trees to make biodiesel. This is not sustainable land use.
Biofuels typically replace petroleum and are used to power vehicles. Although ethanol has higher octane and ethanol-gasoline mixtures burn cleaner than pure gasoline, they also are more volatile and thus have higher "evaporative emissions" from fuel tanks and dispensing equipment. These emissions contribute to the formation of harmful, ground level ozone and smog. Gasoline requires extra processing to reduce evaporative emissions before it is blended with ethanol.
Biodiesel can be made from used vegetable oil and has been produced on a very local basis. Compared to petroleum diesel, biodiesel combustion produces less sulfur oxides, particulate matter, carbon monoxide, and unburned and other hydrocarbons, but more nitrogen oxide.
Endless sources of energy: earth, wind, and sun
Geothermal energy
Five percent of the United States' renewable energy portfolio is from geothermal energy (see Figure U.S. Energy Consumption by Energy Source, 2009 ). The subsurface temperature of the earth provides an endless energy resource. The environmental impact of geothermal energy depends on how it is being used. Direct use and heating applications have almost no negative impact on the environment.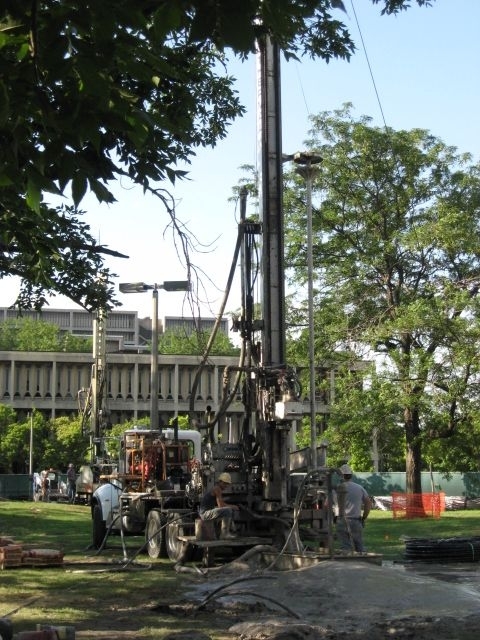 Geothermal power plants do not burn fuel to generate electricity so their emission levels are very low. They release less than one percent of the carbon dioxide emissions of a fossil fuel plant. Geothermal plants use scrubber systems to clean the air of hydrogen sulfide that is naturally found in the steam and hot water. They emit 97 percent less acid rain-causing sulfur compounds than are emitted by fossil fuel plants. After the steam and water from a geothermal reservoir have been used, they are injected back into the earth.