Define electric current, ampere, and drift velocity
Describe the direction of charge flow in conventional current.
Use drift velocity to calculate current and vice versa.
Electric current
Electric current is defined to be the rate at which charge flows. A large current, such as that used to start a truck engine, moves a large amount of charge in a small time, whereas a small current, such as that used to operate a hand-held calculator, moves a small amount of charge over a long period of time. In equation form, electric current is defined to be
where is the amount of charge passing through a given area in time . (As in previous chapters, initial time is often taken to be zero, in which case .) (See [link] .) The SI unit for current is the ampere (A), named for the French physicist André-Marie Ampère (1775–1836). Since , we see that an ampere is one coulomb per second:
Not only are fuses and circuit breakers rated in amperes (or amps), so are many electrical appliances.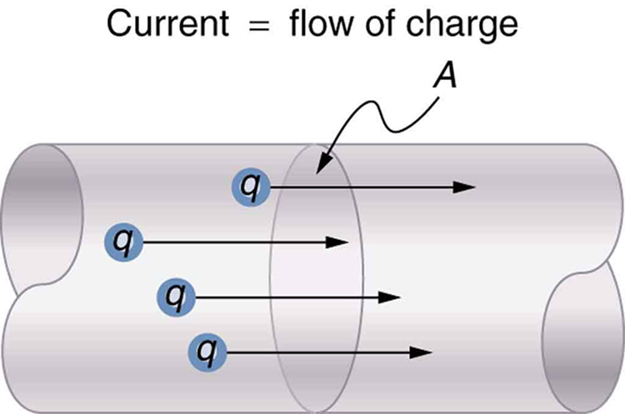 Calculating currents: current in a truck battery and a handheld calculator
(a) What is the current involved when a truck battery sets in motion 720 C of charge in 4.00 s while starting an engine? (b) How long does it take 1.00 C of charge to flow through a handheld calculator if a 0.300-mA current is flowing?
Strategy
We can use the definition of current in the equation to find the current in part (a), since charge and time are given. In part (b), we rearrange the definition of current and use the given values of charge and current to find the time required.
Solution for (a)
Entering the given values for charge and time into the definition of current gives
Discussion for (a)
This large value for current illustrates the fact that a large charge is moved in a small amount of time. The currents in these "starter motors" are fairly large because large frictional forces need to be overcome when setting something in motion.
Solution for (b)
Solving the relationship for time , and entering the known values for charge and current gives
Discussion for (b)
This time is slightly less than an hour. The small current used by the hand-held calculator takes a much longer time to move a smaller charge than the large current of the truck starter. So why can we operate our calculators only seconds after turning them on? It's because calculators require very little energy. Such small current and energy demands allow handheld calculators to operate from solar cells or to get many hours of use out of small batteries. Remember, calculators do not have moving parts in the same way that a truck engine has with cylinders and pistons, so the technology requires smaller currents.
[link] shows a simple circuit and the standard schematic representation of a battery, conducting path, and load (a resistor). Schematics are very useful in visualizing the main features of a circuit. A single schematic can represent a wide variety of situations. The schematic in [link] (b), for example, can represent anything from a truck battery connected to a headlight lighting the street in front of the truck to a small battery connected to a penlight lighting a keyhole in a door. Such schematics are useful because the analysis is the same for a wide variety of situations. We need to understand a few schematics to apply the concepts and analysis to many more situations.