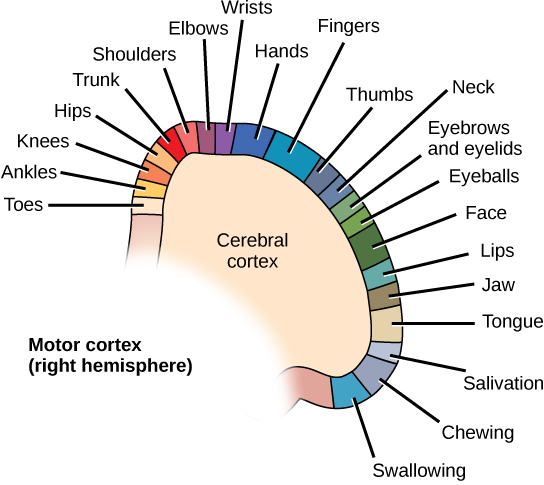 The parietal lobe is located at the top of the brain. Neurons in the parietal lobe are involved in speech and also reading. Two of the parietal lobe's main functions are processing somatosensation —touch sensations like pressure, pain, heat, cold—and processing proprioception —the sense of how parts of the body are oriented in space. The parietal lobe contains a somatosensory map of the body similar to the motor cortex.
The occipital lobe is located at the back of the brain. It is primarily involved in vision—seeing, recognizing, and identifying the visual world.
The temporal lobe is located at the base of the brain by your ears and is primarily involved in processing and interpreting sounds. It also contains the hippocampus (Greek for "seahorse")—a structure that processes memory formation. The hippocampus is illustrated in [link] . The role of the hippocampus in memory was partially determined by studying one famous epileptic patient, HM, who had both sides of his hippocampus removed in an attempt to cure his epilepsy. His seizures went away, but he could no longer form new memories (although he could remember some facts from before his surgery and could learn new motor tasks).
Evolution connection
Cerebral cortex
Compared to other vertebrates, mammals have exceptionally large brains for their body size. An entire alligator's brain, for example, would fill about one and a half teaspoons. This increase in brain to body size ratio is especially pronounced in apes, whales, and dolphins. While this increase in overall brain size doubtlessly played a role in the evolution of complex behaviors unique to mammals, it does not tell the whole story. Scientists have found a relationship between the relatively high surface area of the cortex and the intelligence and complex social behaviors exhibited by some mammals. This increased surface area is due, in part, to increased folding of the cortical sheet (more sulci and gyri). For example, a rat cortex is very smooth with very few sulci and gyri. Cat and sheep cortices have more sulci and gyri. Chimps, humans, and dolphins have even more.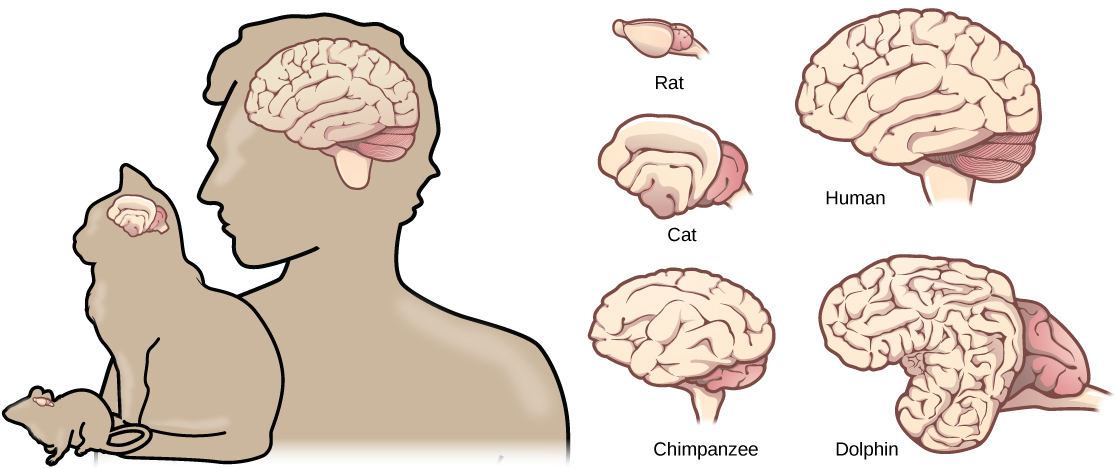 Basal ganglia
Interconnected brain areas called the basal ganglia (or basal nuclei ), shown in [link] b , play important roles in movement control and posture. Damage to the basal ganglia, as in Parkinson's disease, leads to motor impairments like a shuffling gait when walking. The basal ganglia also regulate motivation. For example, when a wasp sting led to bilateral basal ganglia damage in a 25-year-old businessman, he began to spend all his days in bed and showed no interest in anything or anybody. But when he was externally stimulated—as when someone asked to play a card game with him—he was able to function normally. Interestingly, he and other similar patients do not report feeling bored or frustrated by their state.